Japanese Knotweed Excavation and On-Site Treatment
On sites where additional space is available, excavated waste can be stockpiled in a segregated area where its presence will not pose any threat to surrounding structures or be at risk of spreading. A suitable management plan can then be put in place to treat the Japanese Knotweed with herbicide over a period of 2-5 years. This approach will allow the client to immediately proceed with work in the previously affected area and reduces overall costs with no off-site disposal of controlled waste.
For the process to be effective, stockpiled material needs to be stored on top of a geo-textile root barrier membrane in order to protect the ground beneath from contamination. It should be piled no higher than 0.5 meters with the rhizomes as close to the top surface as possible so that they may actively grow. New growth will be treated with potent herbicides until the rhizomes are exhausted and the plant is eliminated.
We recommend you discuss your individual requirements with our experienced surveyors at the earliest stage so that they can determine if your site is suitable for knotweed relocation and assist with logistical decision making.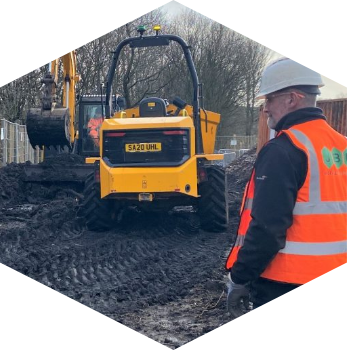 Developing on Land Contaminated with Japanese Knotweed?
If you're planning to develop or begin construction on a piece of land that's contaminated with Japanese Knotweed, it's crucial that you eradicate this before work begins.
Construction companies will be subject to further regulations that won't affect domestic landowners, however no matter the situation, Japanese Knotweed must be dealt with to ensure no further damage to your property occurs.  
Japanese Knotweed Excavation Process
On-Site Screening
Excavating large quantities of soil contaminated with Japanese Knotweed for off-site disposal can be very expensive. The less soil sent to registered landfill sites, the lower the remedial costs will be.
JBB Knotweed Solutions offers an on-site sifting and screening service whereby excavated soil is passed through a selection of different-sized screens and conveyors to separate the invasive rhizomes from the soil.
At the end stage, trained knotweed operatives carry out a final check and handpick any remaining fragments of root from the soil. Once the rhizomes have been separated, they are placed into bags and incinerated off-site. Although the screening process is effective there will still be some soil which has to be disposed of as controlled waste, however, the quantity will be significantly lower and the remaining soil can be repurposed on-site. As with all excavation methods our after-care service includes 2 years of monitoring to ensure any missed rhizomes are quickly identified and treated.
Cell Burial
Cell burial is the process whereby Japanese Knotweed and contaminated soil are excavated from one location and buried in an excavated pit in another location, lined with a root barrier membrane. This option is useful for sites that don't have the time available for herbicide treatment or the budget for off-site disposal to registered landfills.
Once the knotweed burial is complete, work can resume immediately on site – this is generally within a matter of weeks. The depth of the burial pit needs to be at least 5m deep with the top of the burial cell a minimum of 2m below the surface. The controlled waste is encapsulated by heat welding the seams of a geo-textile membrane from which the Japanese Knotweed cannot escape.
Clean soil is then placed on top of the cell to secure its containment. Consideration must be given to the future use of the area where the cell burial is to be contained so that it is not at risk of being disturbed from further development and its location should be recorded on all site plans.
The Environmental Agency must be notified of plans to bury Japanese Knotweed and give approval before works commence. JBB Knotweed Solutions will manage the entire process ensuring legislation is complied with and on completion provide 2 years of monitoring to check no regrowth occurs.
"The team at JBB Knotweed Solutions provide a prompt and professional service that helps our clients solve their Japanese Knotweed problems. They adopt a personable and friendly approach throughout and I would be happy to recommend them."
"JBB has been fantastic from start to finish of the job, incredibly helpful and clearly knowledgeable about their trade, true professionals. We would definitely use JBB again on future projects and 100% recommend them."
"I would thoroughly recommend JBB Knotweed Solutions. The knowledge and professionalism of the team is second to none. From my first call to them, right through the site visits and explanations of the treatment process, I knew I was dealing with experts in their field. I have used the JBB team in a number of positions I have held, they have been praised for the way they work on many of my sites"
Japanese Knotweed Services
We can tell you if you definitely have Japanese
Knotweed on your property and recommend the
best course of action.
We can tell you if you definitely have Japanese Knotweed on your property and recommend the best course of action.