Killling Japanese
Knotweed with Herbicide
Getting rid of Japanese Knotweed using a Herbicide treatment involves the application of herbicide chemicals to the green foliage (leaves) using a backpack or handheld sprayer. It is suitable for both large and small areas, causing minimal disruption and inconvenience.
How long do herbicides take to work?
The process of herbicide treatment is gradual and can take between 2-5 years to complete depending on the size of infestation. It is however highly effective and a cost-efficient means to tackle Japanese Knotweed.
Herbicide application should be carried out once the plant has fully grown as a greater surface area of leaves will result in larger quantities of herbicide being absorbed. Once the herbicide is applied to the leaf it is drawn down into the rhizomes (roots) where it can begin to destroy the plant.
Tackling the plant at its rhizomes with successive annual treatments weakens the root system, prevents it spreading further and eventually exhausts the plant to complete eradication.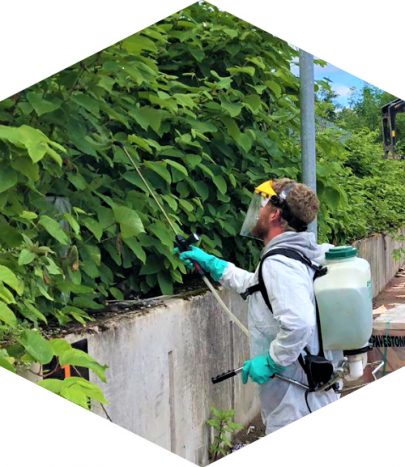 What is the Best Herbicide for Japanese Knotweed Removal?
The use of herbicides requires special attention as these can be harmful to humans, animals and the environment if not used correctly. All our technicians are NPTC qualified and follow a strict safe system of work to ensure any risks are minimised.
We only use herbicides on the MAPP (Ministerially Approved Pesticide Product) approved list of herbicides and have COSSH assessments for all those used. A record of each herbicide application along with its effect on the infestation is maintained and issued to the client. This evidence demonstrates implementation of the management plan and satisfies conditions set by mortgage lenders.
To find out more about our herbicide treatments please call us today.
"The team at JBB Knotweed Solutions provide a prompt and professional service that helps our clients solve their Japanese Knotweed problems. They adopt a personable and friendly approach throughout and I would be happy to recommend them."
"JBB has been fantastic from start to finish of the job, incredibly helpful and clearly knowledgeable about their trade, true professionals. We would definitely use JBB again on future projects and 100% recommend them."
"I would thoroughly recommend JBB Knotweed Solutions. The knowledge and professionalism of the team is second to none. From my first call to them, right through the site visits and explanations of the treatment process, I knew I was dealing with experts in their field. I have used the JBB team in a number of positions I have held, they have been praised for the way they work on many of my sites"
Japanese Knotweed Removal Services
We can tell you if you definitely have Japanese
Knotweed on your property and recommend the
best course of action.
We can tell you if you definitely have Japanese Knotweed on your property and recommend the best course of action.
Japanese Knotweed in Scotland
Knowledge of the existence of Japanese Knotweed within a property boundary must be disclosed.