Japanese Knotweed Removal Specialists Scotland
Specialists in Scotland providing Japanese Knotweed identification, treatment & removal solutions.
Japanese Knotweed Removal Companies in Scotland
We are Scotland's Invasive Weed Specialist and service Japanese Knotweed removal across Scotland, from initial identification and survey, to friendly advice, treatment and aftercare.
From our headquarters in Glasgow and our sub-branches in Inverness and Ayrshire, we are proud to be able to service every part of Scotland, as one of the top Japanese Knotweed removal companies across the country!
For more information on the services available in your area please contact us on 08000 546 436. "The team at JBB Knotweed Solutions provide a prompt and professional service that helps our clients solve their Japanese Knotweed problems. They adopt a personable and friendly approach throughout and I would be happy to recommend them."
"JBB has been fantastic from start to finish of the job, incredibly helpful and clearly knowledgeable about their trade, true professionals. We would definitely use JBB again on future projects and 100% recommend them."
"I would thoroughly recommend JBB Knotweed Solutions. The knowledge and professionalism of the team is second to none. From my first call to them, right through the site visits and explanations of the treatment process, I knew I was dealing with experts in their field. I have used the JBB team in a number of positions I have held, they have been praised for the way they work on many of my sites"
Proud to be one of the top Japanese Knotweed removal companies in Scotland
From start to finish JBB were a pleasure to deal with. They had an in-depth knowledge of our problem and were extremely quick to react. We can't thank Dougie and James enough.
Shannen Doherty
2023-02-27
JBB were quick to respond to our request to come out and survey our back garden and help diagnose if we had knotweed. Thankfully we hadn't but a friendly and professional service was provided!
I am very satisfied with the work done they saved our backyard from the invasion of the knotweed I highly recommend their service ⭐️⭐️⭐️⭐️⭐️
Helped us quickly get rid of the knotweed. Highly recommend.
Recently had to use jbb knotweed after discovering we had Japanese knotweed at the bottom of our garden. The team were very professional and looked after us from start to finish
Excellent service and these guys know there stuff. Don't take any chances with this stuff and get the professionals in. Been landscaping for years but knotweed has to be dealt the correct way and this company certainly do this.
Had the guys out to look at a knotweed problem for me, very friendly and efficient service from the team, much appreciated!
Gaelen McLaren
2023-02-19
I thought I had a problem with knotweed in my back garden. JBB were quick, very friendly and knowledgeable about the situation. It turned out it wasn't knotweed, however they were so helpful and I would highly recommend 🙌🏻
Brian Moultrie
2023-02-18
JJB knotweed solutions took care of some knotweed removal for some of our clients ,they dealt with the problem with ease and provided great consultation to our clients , we would highly recommend them to any one having problems with the dreaded knotweed .
JBB knotweed assisted with the a potential issue in our property in Fife. Their team were professional and very understanding to help solve the issue quickly to allow the construction works to progress. The people at JBB knotweed identified very quickly that we did not have a knotweed issue. Great service, thank you
Japanese Knotweed Removal Solutions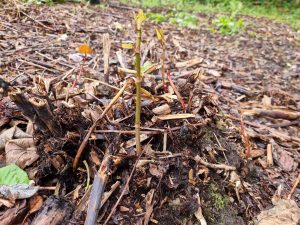 Should you tackle Japanese Knotweed removal yourself? Read our latest post to find out why DIY isn't the best idea for knotweed removal.