2022 marked a milestone for JBB Knotweed Solutions!
We were contracted by Lidl, one of the UK's leading supermarket chains, to carry out full invasive weed surveys on all of their Scottish stores. Rather than wait until a problem arose, Lidl took the proactive approach to understand and take action to reduce their exposure to the risks associated with invasive species.
Another great aspect of this project for us, was being able to complete surveys on every Lidl site in Scotland under the power of our electric vehicle fleet, whilst utilising the charging stations installed at many Lidl stores in the process!
So… why is understanding your business's exposure to the risks associated with invasive plants important?
There are a number of reasons!
Firstly,
the legal argument
is a strong one. It is a legal offence to allow invasive plants to spread in the wild. This means allowing any invasive species listed on Schedule 9 of the Wildlife and Countryside Act 1981 to spread from your land could give rise to legal and criminal consequences. 
Under common law, individuals can take civil action against neighbouring landowners who have not taken reasonable action to control the spread of Japanese Knotweed from their land and whose spread is considered a private or public nuisance. The individual or organisation may be required to pay compensation for damages caused by the spread of Japanese Knotweed.
Next are the financial drivers, which are again compelling. Japanese Knotweed grows fast and is capable of growing at rates in excess of 10cm per day in summer months. Controlling and/or removing invasive species can be a time consuming and expensive process, so the longer a problem is left without action, the worse (and more expensive) it will be to deal with. 
On their website, The Scottish government estimated that invasive non-native species may cost up to £2 billion each year across Great Britain, which might be as much as £200 million in Scotland alone. So some pretty big numbers……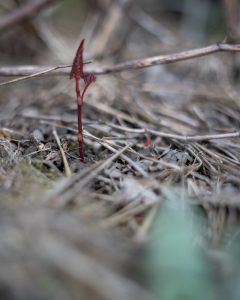 Finally, is
the moral justification
. This can be looked at through a number of lenses, however the crux of the moral argument can be looked upon as 'simply doing the right thing.' 
For example, if your business knowingly or unknowingly has Giant Hogweed growing on your land, the risk to your staff and to members of the general public could be significant. Every year we receive calls from people who have been badly burned by what is undoubtably one of the UK's most dangerous plants. 
Invasive Non-Native Species (INNS) cause significant damage to the environment by out competing our valuable native plants and putting unwanted stress on our already fragile ecosystem. Identifying and controlling INNS was part of Lidl's strategy to ensure their stores were proactively engaged and making a positive difference to the environment, emphasising their commitment to protecting biodiversity.
With the Environmental, Social, and Governance (ESG) agenda having become such a strategically important factor for businesses and investors – incorporating the management of non-native plants into your company's strategy has never made more sense!
So, what were the results?
Our teams surveyed 90 sites across Scotland this year – a huge undertaking! 10% of stores were found to have Non-Native Invasive Species present on the property, with Japanese Knotweed featuring on 8% of sites. This was in many cases combined with Himalayan Balsam and a single instance of Bamboo. The maturity of the growth varied from site-to-site, ranging from relatively extensive areas of infestation to small and new growth.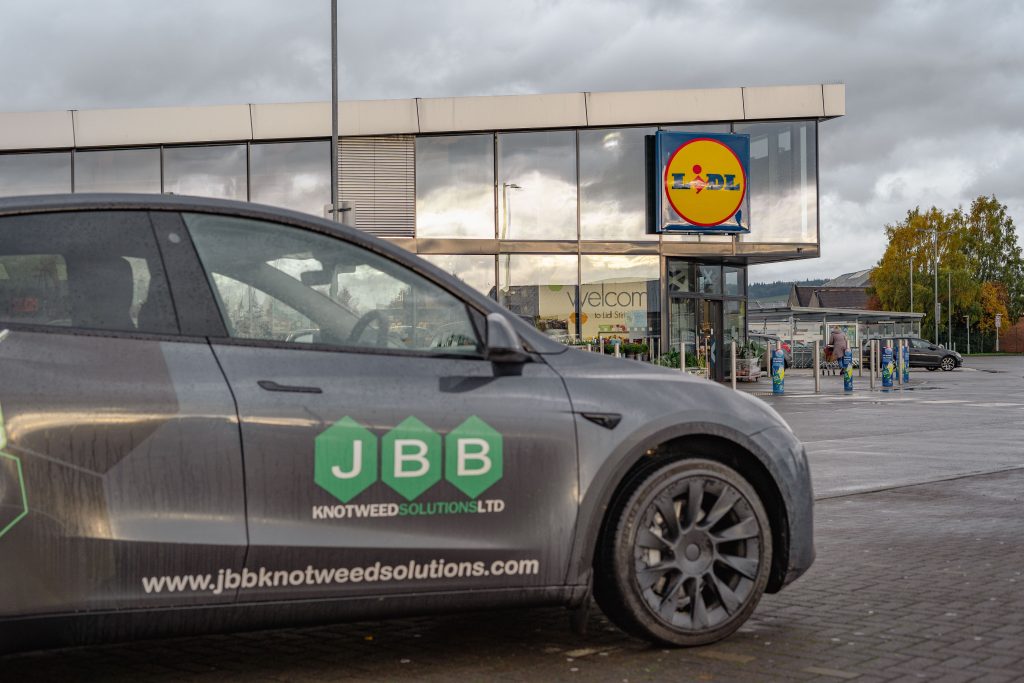 What does this mean?
Lidl were able to proactively manage the issue that was otherwise silently developing on their properties across Scotland and we were able to recommend and implement management plans to address all affected sites. Non-Native Invasive Species such as Japanese Knotweed often only hit the headlines when there is a problem or dispute. It has been fantastic to work with a leading UK brand who clearly care about their legal, financial, and moral duties to the environment. JBB Knotweed Solutions have been able to support Lidl to take what normally only attracts negative press and use it to positively set the example for others.


This was a fantastic project to support and one that we feel really passionate about!
Helping educate businesses on what they need to know in relation to Non-Native Invasive Species plays a huge part in what we do. If your company has environmental issues at the forefront of its ESG plans, or you would simply like to find out more about how we can support your organisation understand its exposure to the risks associated with Non-Native Invasive species, like we did for Lidl on this project – get in touch!