Excavation and Off-Site Disposal
Land contaminated with Japanese Knotweed can prove troublesome to developers and construction firms whose projects may be hindered until the knotweed is dealt with. Homeowners looking to build an extension or have their garden landscaped may require an immediate solution. In some circumstances, time constraints mean that a faster approach of removing knotweed is necessary.
Excavation involves physically removing the Japanese Knotweed and contaminated soil from the site and disposing of the 'controlled waste' at a registered landfill. Alternatively, the 'controlled waste' can be moved to a quarantined area for on-site treatment.
Typically, excavation works are completed within 1-2 weeks however this is dependent on the scale of the infestation. It can be carried out at any time of the year and is not weather dependent. Excavation must be carried out by knotweed specialists to ensure compliance with legislation and to minimise the risk of spreading via cross-contamination. After successful completion we continue to monitor sites for 2 years to ensure no re-growth occurs.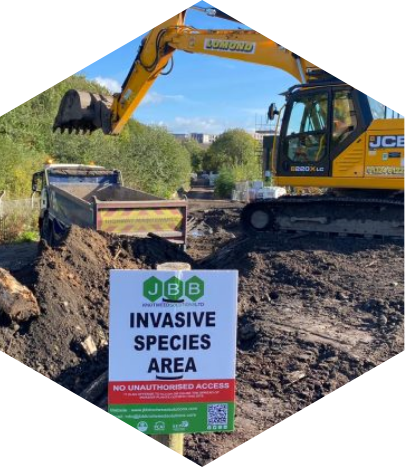 Off-site disposal is the most expensive remedial action but sometimes a necessity when time and space on site are limited. Our skilled operatives follow the rhizome network to avoid unnecessary excavation of clean soil helping to control the quantity of waste produced and lower disposal costs. JBB Knotweed Solutions hold the appropriate waste carriers license for removing the controlled waste from site and follow strict procedures to ensure accidental spreading does not occur during operations.
Excavation costs can be significantly lowered if the Japanese Knotweed and contaminated soil can be treated on-site. Alternatives to off-site disposal include:
Relocation with herbicide treatment
On-site screening
Cell Burial
"The team at JBB Knotweed Solutions provide a prompt and professional service that helps our clients solve their Japanese Knotweed problems. They adopt a personable and friendly approach throughout and I would be happy to recommend them."
"JBB has been fantastic from start to finish of the job, incredibly helpful and clearly knowledgeable about their trade, true professionals. We would definitely use JBB again on future projects and 100% recommend them."
"I would thoroughly recommend JBB Knotweed Solutions. The knowledge and professionalism of the team is second to none. From my first call to them, right through the site visits and explanations of the treatment process, I knew I was dealing with experts in their field. I have used the JBB team in a number of positions I have held, they have been praised for the way they work on many of my sites"
Japanese Knotweed Services
We can tell you if you definitely have Japanese
Knotweed on your property and recommend the
best course of action.
We can tell you if you definitely have Japanese Knotweed on your property and recommend the best course of action.